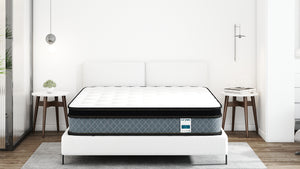 High Density Foam, High Comfort Level
crystli
We believe, a good night, a better morning!
About us
Home is everything to us. We created Crystli to bring more comfort to your world through premium, accessible essentials.We launched Crystli in 2021 as an online-only, direct-to-consumer brand focused on creating impeccable bedding.
We've created a loyal community dedicated to comfort, both online and off. And we're committed to providing you with exceptional everyday essentials that make you feel at home.
Crystli Believes
Sleep is the superpower that charges everything people do.
Crystli spent years studying the magic and science of sleep. The more we learn, the more we're sure: Great sleep changes everything. It makes us friendlier, faster, smarter... even warmer-and-fuzzier. If we all got great sleep, the world would be brighter.
No Middle-Men
We manufacture and ship directly to you, so you get your Crystli without having to pay sales commissions, middlemen, or other store markups.
CertiPUR-US certified safe and warrantied for 10 years. Don't worry, sleep happy.
It's just one extra step we take to ensure you sleep better.
We're bringing joy to a tired people
Bringing Joy
We want the world to love sleep as much as we do. From designing lovable products like our Nap Pillow and Glowlight to taking comfort to the sky to fly, we're creating ways to turn yawns into smiles — one well-rested person at a time.
We promise to bring satisfactory pre-sales and after-sales services to every consumer. If there is any problem with the product, please contact our after-sales service team as soon as possible. If you are hesitant to buy, you can or you can consult us at any time.